Lefebure.com
/
Recipes
/
Cinnamon Rolls
Makes: 12 rolls.
Prep time: 30 minutes
Rise time: 2 hours
Cook time: 30 minutes @ 350° F

Combine the following in a large bowl, stir until butter melts, then let cool.
- 1/2 cup mashed potatoes
- 6 tablespoons butter or margarine
- 1 cup hot water
- 6 tablespoons sugar (3/8 of a cup)
- 1 teaspoon salt
Combine the following in a small bowl and let sit for 5 minutes.
- 1 envelope active dry yeast
- 1/4 cup warm water (~110° F)
Add yeast mixture and the following to first bowl, mix well.
- 1 egg
- 4.25 cups all-purpose flour, more if needed
Knead in large bowl using a mixer with a dough hook until smooth and elastic (about 4 to 6 minutes).
Let rise in a warm, draft free area about 1 hour, until doubled in size.
Prepare filling: Melt butter in a small bowl.
- 4 tablespoons butter or margarine
In another small bowl, mix the dry filling ingredients.
- 1/2 cup sugar
- 3/4 teaspoon ground cinnamon
Roll dough on a lightly floured surface to a 12 x 18-inch rectangle. Spread with butter. Sprinkle sugar and cinnamon mixture over surface.
Roll up tightly lengthwise, sealing edges. Cut into 12 slices. Place in greased 13 x 9-inch pan.
Let rise 30 to 45 minutes until nearly doubled.
Bake in preheated 350° F oven for 25 to 30 minutes.
Cool for 15 minutes. Combine icing ingredients and drizzle over rolls.
Icing: Combine the following in a medium bowl
- 3 tablespoons butter or margarine, softened
- 1/2 teaspoon Vanilla extract
- 2.5 tablespoons milk
- 1.5 cups powdered sugar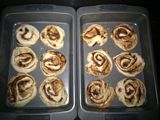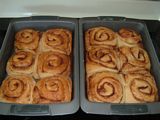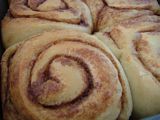 Notes:
-
Original source
Last updated: April 22, 2012