Lefebure.com
/
Recipes
/
Cheddar Cheese Biscuits
Makes: 12 biscuits.
Prep time: 10 minutes
Cook time: 25 minutes @ 350° F

Combine the following in a large bowl. Use a fork to mash the butter into pea-sized pieces.
- 2.5 cups Bisquick baking mix
- 1/2 teaspoon garlic powder
- 1 teaspoon parsley flakes
- 4 tablespoons cold butter
Add milk, mix, then add cheese.
- 3/4 cup milk
- 1 cup grated cheddar cheese
Use a spoon to drop approximately 1/4-cup portions of dough onto an air-bake pan. Optionally, use can use parchment paper for an easier cleanup.
Pre-heat oven. Bake for 22-25 minutes at 350 degrees. They are done when the tops of the biscuits begin to turn light brown. Don't overcook or they will be dry and crunchy.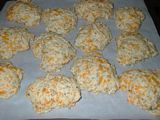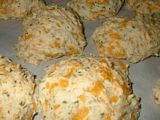 Notes:
-
Original source
Last updated: April 22, 2012