Lefebure.com
/
Recipes
/
Baked Potato Wedges
Makes: 9 x 13 pan.
Prep time: 10 minutes
Cook time: 60 minutes @ 400° F

Start with a 9x13 pan.
- 4 large potatoes, cut in half, then cut in thirds
- 2 tablespoons olive oil
Mix with a fork so the potatoes are evenly coated with olive oil. The sprinkle on seasoning:
- Basil, oregano, rosemary, thyme, crushed red pepper, etc.
Bake at 400° F for 60 minutes, uncovered.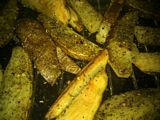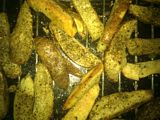 Last updated: July 23, 2013