Lefebure.com
/
Products
/
NovAtel PwrPak7D
The NovAtel PwrPak7D is a dual-antenna receiver that is ideal for measuring orientation in addition to position. The specs are much like the PwrPak7, but the second antenna input allows you to get relative distance, heading, and pitch between the two antennas. This can be especially useful for determining the orientation of a vehicle even when stopped.

Highlights:
- Three RS-232 serial ports (NMEA 0183 or binary)
- mini-B USB port
- Integrated Ethernet and Wi-Fi for remote configuration, NTRIP client or server
- GPS L1 C/A, L1C, L2C, L2P, L5
- GLONASS L1 C/A, L2C, L2P, L3, L5
- BeiDou B1, B2, B3
- Galileo E1, E5 AltBOC, E5a, E5b, E6
- NavIC (IRNSS) L5
- SBAS L1, L5
- QZSS L1 C/A, L1C, L2C, L5, L6
- L-band up to 5 channels
- Position data up to 100Hz
- GL1DE algorithm to reduce position drift when running in autonomous or SBAS modes.
- Can use TerraStar satellite-based corrections for near-RTK accuracy without the radios or base station.
- Can function as a RTK rover or RTK base station (requires RTK unlock)
- Can use numerous RTK correction data formats such as RTCM v2.x, RTCM v3.x, and CMR+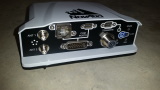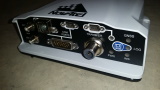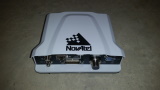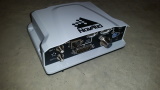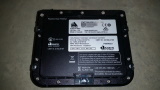 Models:
Example Part Number
Description
PW7720-DDD-RZN-TBN
RTK Rover + ALIGN Heading
GPS plus GLONASS L1+L2 1cm real-time kinematic positions and corrections, TerraStar, SBAS, DGPS, 20Hz, ALIGN heading

This will let the receiver function as a RTK rover along with vehicle heading and pitch.


There are numerous combinations of frequencies, constellations, and features. Feel free to tell us your intended use to get a quote on the right receiver for the task.


Questions / Request a Quote:
Contact Us

Accessories:
Antennas:
-
GNSS-502
-
GNSS-802
Coax Cables:
-
GPS-C006
-
GPS-C016
- GPS-C032

Support:
-
PwrPak7D Product Sheet
(includes full specifications)
-
PwrPak7D Quick Start Guide
-
OEM7 Commands and Logs Manual
-
PwrPak7D web page at NovAtel.com
-
NovAtel Connect Configuration Utility
-
Lefebure NovAtel Config Utility